Two Paragraphs
Protection for Any Season, Anywhere
The risk of Lyme disease is on the rise for dogs in many parts of the US, including in areas where it wasn't considered common in the past.1 Additionally, the number of counties where black-legged ticks are considered established has more than doubled in the past 20 years.2 Finally, black-legged ticks can be active year-round, even in temperatures just above freezing, making year-round protection essential.3 
Make Monthly Flea and Tick Protection Delicious
Get Protection From Your Vet
Ask your vet about NexGard chews— they're vet-recommended flea and tick protection.
Give Your Dog Their Chew
NexGard chews are bite-sized doses of beef-flavored deliciousness, and dogs love them.4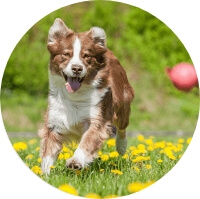 Enjoy Protection
Each dose of NexGard chews lasts for a full month of adventure, and you'll love how easy it is to protect your pet.
What Causes Lyme Disease in Dogs?
Ticks are more than an itchy nuisance. Black-legged ticks can carry Borrelia burgdorferi, the bacterium that causes Lyme disease. The harmful bacteria are transmitted to your dog while the tick is feeding. The bacteria travel to different parts of a dog's body. While many dogs remain asymptomatic, the signs of Lyme disease in dogs include fever, lameness, joint swelling, lethargy, and, in rare cases, serious kidney damage.
Can Ticks Live in Your House?
Ticks don't just stick to the woods. Urban wildlife like white-tailed deer, raccoons, and rodents carry ticks into residential areas like yards and gardens. This means that although most ticks don't live inside your home, they can certainly live in your yard. In the US, there is only one tick species that will infest homes and kennels—the brown dog tick. Home infestations with the brown dog ticks can be quite shocking (finding thousands of ticks crawling up the walls). Consult with a professional pest control specialist if you have a brown dog tick infestation in your home or kennel.
Dogs Are Vulnerable to Ticks That Carry Lyme Disease
Black-legged ticks are common in many parts of the United States, and they can choose your dog as a host at any point throughout the year. This makes Lyme disease in dogs a growing concern for pet owners. NexGard chews are FDA-approved to prevent Lyme infections. They kill black-legged ticks quickly, before the infection can be transmitted.
Sign Up for Emails
Get our quarterly pet health newsletter, the latest offers, and more.